Meet the team
Jon Atkins, Chief Operating Officer
"I have over 25 years of experience gained in roles within technology across a number of industry sectors in startups, not for profit and large corporate organisations. I am a Chartered Accountant and came to the Turing from Lab49, a software consultancy and design company where I led the global finance, operations, facilities and IT teams.
As the national institute for data science and AI, the Turing is committed to redressing gender inequality and our EDI Advisory group which includes our Athena SWAN application is an important part of our commitment."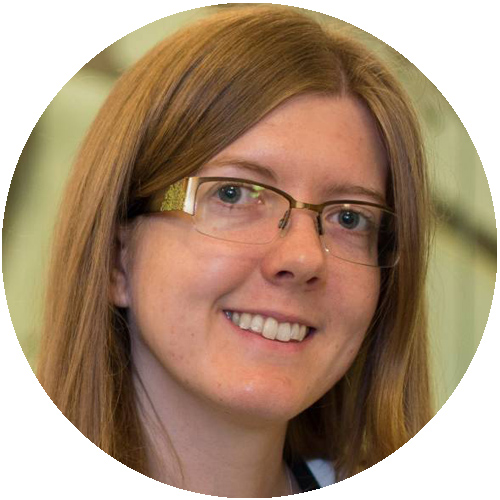 Louise Bowler, Research Data Scientist
"I am currently involved in two projects: I contribute to the Turing Way, a handbook for reproducible data science, and also develop a visualisation toolkit for simulations of traffic flow in urban environments. Building an inclusive and welcoming community has been a big part of the Turing Way project, and I'm encouraged to see the Turing's commitment to equality, diversity and inclusion through the Athena SWAN application and other initiatives.
As a data scientist, I'm obviously keen to be involved with the data analysis and visualisation aspects of our assessment, and this is also a great opportunity to work with colleagues from across the Institute."
Donna Brown, Director of Academic Engagement
"When I started my research career approximately 20 years ago, gender inequality was strikingly obvious, especially the higher up the ladder you climbed… and I was a biologist, one of the more 'gender friendly' disciplines! Stepping into a role that supported researchers and their careers I had the opportunity to work with Athena SWAN (and the research institute where I worked) to pilot Athena SWAN awards for research institutes – at that point in time the award was only open to universities.
Through the work we did towards the bronze award and the good practice the institute already had in place (some of it just needed promoting) we started to make steps to improve gender equality.
Moving from biology into data science and AI related disciplines the gender inequality is even more stark and I hope to apply previous knowledge and learnings to help the Turing to take positive action, embed good practice into everything we do and ultimately change culture."
Vanessa Forster, General Counsel
"I have experience of working in both industry and City law firms and joined the Turing from the British Council where I was Global Senior Legal Adviser for their largest business unit. I've actively participated in other ED&I initiatives at previous employers and I am also on one of the Law Society's ED&I division committees. I would like to contribute this experience to this initiative at the Turing."
Ben Murton, Head of Professional and Academic Development
"My team is responsible for all aspects of the student life-cycle, including recruitment, wellbeing and future opportunities, which require valuing researchers as individuals. These issues are important to consider at a national level and the team also think about the Turing's role in setting best practice and proactively addressing the barriers to academic study in data science and AI."
Amerik Phull, HR Advisor
"I would like to be involved in the EDI advisory group, including the Athena SWAN project, to encourage a better working environment for all employees, and introduce valuable cultural changes to work towards being a diverse equal organisation."
Iain Styles, Turing Fellow
"I am a Senior Lecturer in the School of Computer Science at the University of Birmingham. I have had a long-standing interest in EDI in science and education and was responsible for overseeing pastoral care and welfare for all computer science students in Birmingham for many years. This included making adjustments to study programmes for caring and family responsibilities."
Naya Yerolemou, Doctoral Student
"I am an organiser of Mathematrix, a discussion group for graduate students in maths at Oxford about minorities in academia. I have been involved in other initiatives to encourage more girls and women in STEM, for example as an instructor for Code First: Girls, and want to be involved in the EDI group and Turing's Athena SWAN application to better understand the problem and solutions from the perspective of policy and organisational structure. I hope to be able to use my experience as a woman in maths and technology to contribute to the process."
Kate Wicks, Events Manager
"I have always had an interest in organising educational events, especially events within STEM. I have previously organised events for young women who are interested in a career in STEM and helping them see what is available for them.
I'm interested in contributing my event background and organisational skills to the EDI Advisory Group, as I think it will be a great way to build further diversity within the Turing and to look at ways to improve and develop the events."
Amy Gallimore, Academic Recruitment Coordinator
"I currently manage Academic Recruitment at the Turing and am passionate about constantly working to improve the inclusivity of our calls and diversity of our applicants. Prior to joining the Turing I worked in a range of youth inclusion roles in both schools and charities including the recruitment of specialists support workers, and shaping inclusion policy."
Jon Rowe, Programme Director for Data Science for Science, and Turing Fellow
"I am a Professor in Computer Science at the University of Birmingham. I lead an EPSRC 'Inclusion Matters' project, looking at forms of bias in scientific research, and am a regular member of Athena SWAN panels."
Samantha Selvarajah, Academic Services Manager
"For everyone at the Turing to thrive it is important that we are continuously discussing what EDI means and taking action to make it part of everything we do. Being able to recognise, understand and welcome diversity, improves the breath of our ideas and impact, but also our individual experience of feeling valued and part of the community. As part of my role supporting the experience of our students and Turing Research Fellows, I want to contribute to making this happen."
Catrin Evans, Project Coordinator
"I draw on 13 years of solid professional experience within the NHS, emergency services, government, and charity sectors.  These roles have included working within HR, training, medical education, learning & organisation development, projects, and community outreach.
I am passionate about working with gender and LGBTQ+ having volunteered at Stonewall, Cara HIV, Mildmay Hospital, Terence Higgins Trust, and Opening Doors London. Internationally, I have volunteered at Hospice Casa Sperantei in Romania and at the Red Cross War Memorial Hospital in South Africa. In the UK, I have been a mentor for women at the charity 'Laamiga' (meaning 'pathway' in Somali).
I hold a BSc (hons) degree in psychology from the Open University, which I gained alongside working full-time.  I additionally hold a BMus (1st) from the Royal Academy of Music, a Diploma in Therapeutic counselling, and an MPhil degree from the University of Cambridge."
Anneca York, Events Coordinator
"I am Chair of the Race, Diversity and Equality group as well as an Event Coordinator within the Institute.
I have worked on many events which have facets of EDI embedded and would like to work towards implementing Athena SWAN charter within the Institute.
Our goal within the group is to create an inclusive Institute where we all can feel safe and welcome whilst recognising and celebrating difference. I have a passion and commitment to equality for all and believe we can all be agents for change within our roles. I aim to be open to all questions, discussions and ideas so if you have any thoughts please do get in touch."
 Cybele Fernandes, Project Coordinator
 "I believe that diversity is the wealth of humanity and it is a subject very close to my heart.
  Presently, I am the Chair of the Health and Wellbeing working group, having previously worked on projects that      aimed to tackle the root causes of poverty and unemployment, such as physical and mental health issues,              homelessness, addiction and many others.
  Working with a variety of groups throughout my life, such as, neurodiverse, multiple nationalities and                      backgrounds, engaged me to help end stereotypes, discrimination, and segregationist practices.
I hope to bring value to the group and help move forward the EDI agenda at the Turing."