Cities are significant contributors to climate change. They consume 78% of the world's energy, but take up less than 2% of the Earth's surface. Today (11 November) at the COP26 summit, there is a specific focus on the impact of cities and the built environment on the climate.
One particular area of impact is a city's 'building stock', i.e. all of the city's buildings, including homes, offices, factories, shops and schools. Heating these buildings and providing them with electricity produces greenhouse gases, as does constructing new buildings and demolishing old ones. Globally, buildings account for 40% of energy-related carbon emissions and 50% of all extracted materials.
To improve the sustainability of our built environment, we urgently need basic data on our cities' existing building stocks. Current data is often fragmented and difficult to access, but the Turing's Colouring Cities project is aiming to change this through the creation of interactive, open source maps that collate, visualise and release building data for London and other cities around the world.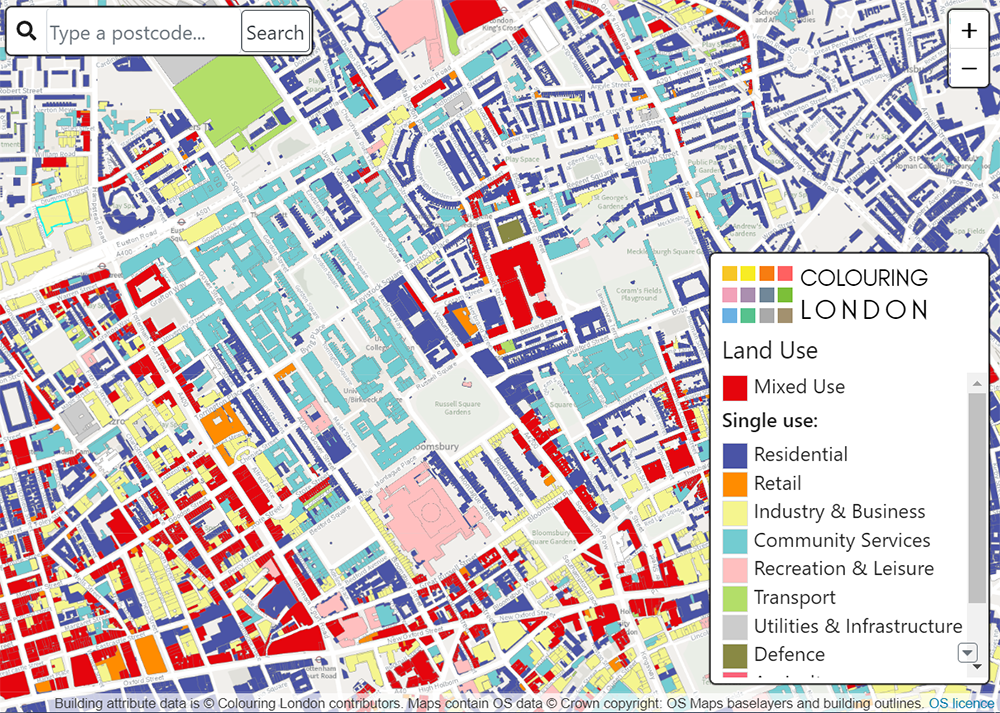 Anyone can sign up to the platform (under 13-year-olds need a guardian's approval) to share their knowledge by 'colouring in' and adding data for individual buildings. So far, there are 12 categories of building-related data that can be submitted, including size, age, history, construction methods, planning status and environmental performance. If you're particularly knowledgeable about your local pub, for example, you could 'colour in' information about its history and current use. There's also a 'community' category that allows users to say how well they think the building contributes to the local area.
The project began with Colouring London, which was set up at UCL's Centre for Advanced Spatial Analysis in 2016 and launched as a live prototype in 2018. So far, it has involved over 60 UK partners, including Ordnance Survey, Greater London Authority and Historic England, as well as over 200 consultees from academia, government, industry, the voluntary sector and the local community. Since 2018, Colouring London has had over five million edits, of which 200,000 were made by human contributors, and the remainder by automated processes.
The data collected by these maps can be used across myriad sectors, including housing, heritage and planning. It also offers great potential in the drive to make our cities more sustainable. To plan for the future, we need a clear picture of how our cities are performing now. That means collecting information such as what kinds of buildings we have and where, what they're made of, how long they're likely to last, and how energy efficient they are.
For example, retrofitting (i.e. improving the energy performance of existing buildings) is almost always better for the environment than demolishing buildings and starting anew. The building age data collected by our maps can help those in the building sector to more quickly identify the most appropriate type of retrofit for a building, to maximise its energy efficiency. Meanwhile, age data can be combined with data about a building's materials, location and usage to predict building lifespan. This is important information in understanding 'urban metabolism' – the flow of energy, materials and waste into, out of and within a city. Being able to estimate how long buildings will last can help city planners to optimise the flow of construction resources, with the aim of saving materials and minimising waste.
By collecting data about historical changes to buildings, we can also begin to identify any negative, locked-in patterns that may be impeding sustainable development, such as areas that are vulnerable to cycles of demolition. (Demolition not only creates waste, but also displaces communities and leads to further environmental costs from the construction of replacement buildings.)
What started as a London-focused project has now expanded internationally. Colouring Cities has been housed at the Turing since September 2020, and one of its key goals is to accelerate the free exchange of data and knowledge on buildings stocks, across cities and countries. We currently have academic partners in Lebanon, Bahrain, Australia, Greece, Germany, Switzerland, China and Indonesia, all of whom are interested in developing a similar platform for their own country. We also have plans to expand Colouring London across the whole of the UK – watch this space!
Want to get involved in Colouring Cities? Head here to start colouring in the London map.