I dream of the day we no longer need to discuss inequalities in STEM between men and women, because they will simply not exist. That day is still too far away, resulting in a huge waste of talent and a loss to society. I want to tell you why I'm passionate about changing this situation. 
When I started electrical and computer engineering at university in the Netherlands, I was the only woman on a course with 200 men. Years later, when I became an assistant professor in the United States, I was just the second female professor in my department. Today, such disparities are shrinking, albeit too slowly. The gender imbalance in artificial intelligence (AI) and machine learning (ML) in particular is well documented. But I don't believe it is about achieving strict parity; it's ok if some professions appeal more to one gender than another.
What I want to share here is the sheer excitement and range of opportunities that are available in my arena to every girl and young woman. Creativity and human interaction are wonderful aspects at the heart of engineering, computer science and applied mathematics that I think are undersold, to the detriment of women.
The most creative job on earth!
Artists and writers are frequently lauded as "creatives", and rightly so because they use their imagination and talent to fill spaces that were previously empty. Engineers are equally creative, building tools and systems that transform the world we live in. Engineers, like good writers and artists, can turn their hand to a variety of subjects, using their imagination to follow their passions or keep things fresh. For me, engineering is the most creative job on earth – I absolutely love it! 
One of the things I love about ML and AI is our ability to use them to change the world we live in: revolutionising healthcare, education, transportation, removing inequalities, making cities smarter, tackling climate change… The list is endless. These fields are creating new ideas and new systems that have a rapid, transformative impact on us all.
A training in engineering, computer science or applied mathematics provides the resources for a lifetime of personal transformation too. I have worked in many fields in academia and industry, in areas as diverse as multimedia, signal processing, communication networks, game theory, network science, distributed systems, machine learning and AI. I used existing methods and algorithms to solve the problems I was interested in, or created imaginative new solutions where none existed. Always evolving, always growing and, above all, having fun!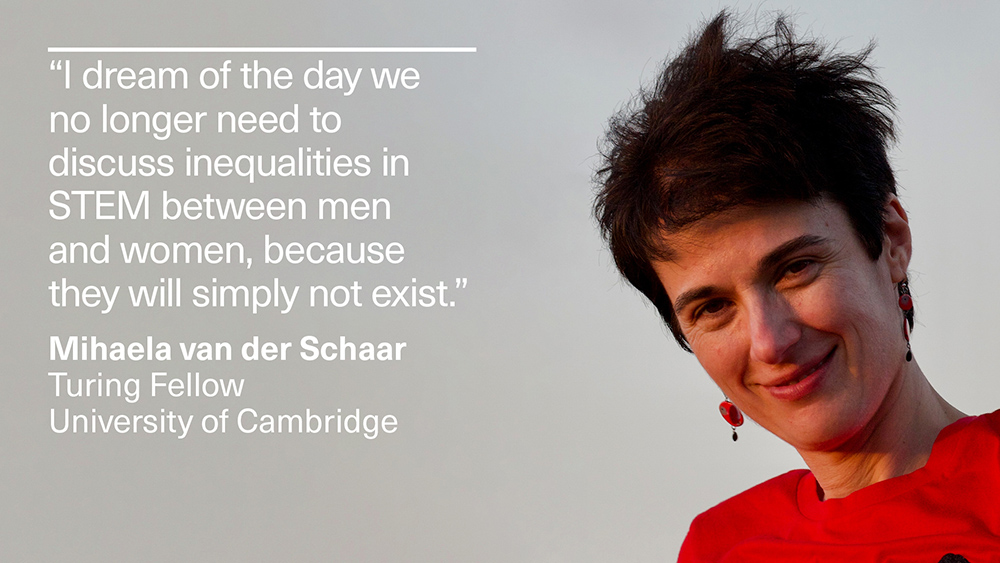 The human touch
Many people think that engineering is not about humans, but machines. Nothing could be further from the truth: the best engineering formalises and then addresses real human problems. Whatever challenge you choose – whether it is helping people with disabilities, older people, younger people still in education, hospital patients, or producing low-cost sustainable resources – "understanding the human" and working across multiple disciplines is the key to success.  In my experience, women are particularly valuable in research environments such as AI and ML, where there is a need for cross-discipline communication and a holistic approach to complex problems.
My own passion is personalised education and personalised medicine; these areas appeal to me because they have the potential to make an impact on individuals and directly improve or save lives. (I should also note that an underrepresentation of women in data science risks exacerbating existing gender biases in healthcare and medicine. Without sufficient female contribution to the design of medical ML systems, such inequalities may worsen and we won't fully realise the positive health outcomes for women.)
There are many other AI and ML fields that contribute to the wider social good. But to be clear, I'm not trying to say that females should only be interested in "worthy" engineering and computer science, but instead that we need to counter the traditional view of engineering as a macho, inhuman world of machines, created by backroom boffins in labs and workshops. The Alan Turing Institute's approach to data science and AI research is an antidote to this outdated view. The Turing brings together a great diversity of people and expertise to solve real-world problems in a truly interdisciplinary way.
Even though things are changing, it can still take courage and determination for girls and young women to pursue a career in engineering, particularly with female role models thin on the ground. It is hard to be non-traditional, but this needs to change! That's why I'm launching a programme of lectures and courses this summer that will bring together women who work in ML and AI to support women who are interested in a career in this field. If you would like to know more, register your interest with by sending an email to [email protected]
In the meantime, the Turing will be showcasing some of the ground-breaking creative work being done in ML and AI, including my own, in its inaugural AI UK event, on 24 and 25 of March. It will be energising and inspiring. I hope you can join us.
Edited by Sean O'Neill, Science Writer

Cover photo credit: AG Studios
---
Turing Fellow, Professor Mihaela van der Schaar is John Humphrey Plummer Professor of Machine Learning, Artificial Intelligence and Medicine at the University of Cambridge, where she leads the lab on Machine Learning and Artificial Intelligence for Medicine (ML-AIM). She has been identified by NESTA as the female AI researcher based in the UK with the most publications in this field and was recognised as a "Star in Computer Networking and Communications" by N2 Women.
Recommended reading
Impact Stories exploring Professor van der Schaar's pioneering work in personalised medicine:
Transforming medicine through AI-enabled healthcare
World-leading expertise in healthcare-focused machine learning combined with the world's largest, high-quality cancer data collection service could lead to a quantum leap in personalised medicine
Augmenting clinical decision-making
Working with the Cystic Fibrosis Trust, Turing researchers have been developing machine learning methods that could dramatically improve the accuracy of clinical assessments of people with cystic fibrosis