I've benefited a great deal from the Turing's PhD Enrichment scheme, and I'd like tell you a little bit about what you can expect if you get the opportunity to come and work at the Institute, inside the stunning British Library building in the heart of London.
Soak up the learning
There are so many aspects and avenues to learning at the Institute, many of them unique.  
Your Turing colleagues will be your best source of knowledge: the many seminars, talks and events held at the Institute provide great opportunities to interact with the sharpest minds in your area. And there are loads of technical events and discussions focused on data science, machine learning (ML) and artificial intelligence (AI), so you'll soak up a lot of this sort of knowledge simply by paying attention. My core area of research is mobile networks, so my working knowledge of ML/AI was basic before my time at the Turing, but quickly grew.
In addition, there are lots of reading groups to choose from, depending on your sphere of interest. I started a group focused on deep learning with some of my colleagues from the Enrichment cohort.
Another aspect of learning is through the support that you get from the Turing's research engineering team, which helps researchers create practical data science tools, practices and systems. I saw my colleagues receiving considerable support from them.
People and places
The Turing environment makes it easy to connect with many well-known researchers in your field, and create valuable opportunities. For example, I was invited to present my work at Queen Mary University of London.
The Enrichment scheme also provides the wonderful opportunity to work in central London, a big bonus for me as London is a hub for some great research meetups (Databeers, Data Natives London and others). At the same time, I was working remotely with my main advisor at the University of Edinburgh, where my PhD is based.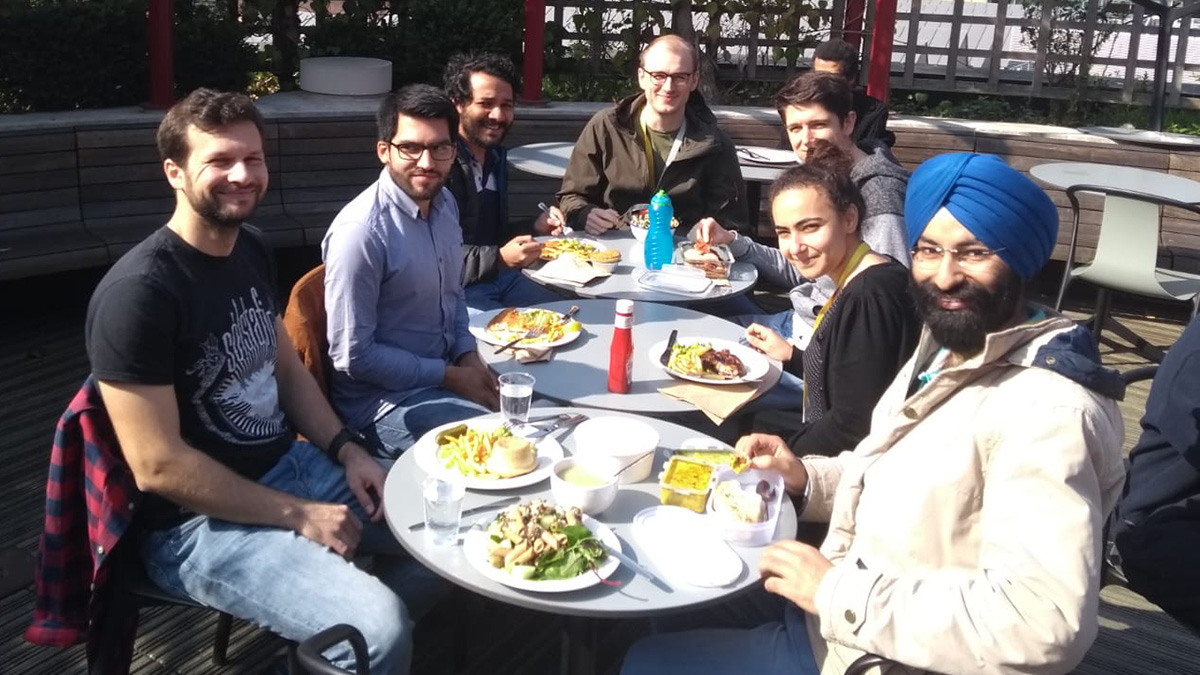 New directions
My enrichment placement helped to shape my research direction. For example, in my current project, I am using reinforcement learning (RL) for optimised decision-making in mobile networks. That started at the Turing, with the motivation to use RL coming from discussions with other Enrichment colleagues. The scheme is also shaping my future projects: I plan to use AI to tackle more challenging problems in 5G systems.
Do your homework
Find out which people associated with the Turing work in your field, so you have an idea who might support you if your application is successful. Also have a look at the Institute's active projects, to help you make an informed application. And you'll stand a better chance if your project also aligns with one or more of the Turing's many research challenges.
The Turing Enrichment scheme can be six, nine or 12 months, and they start in either October or January, so be sure to think hard about what will work best for you.
And finally…
Keep in mind that the Enrichment scheme is not like an industrial internship. In this scheme, you have flexibility: there is no pre-defined project or task for you. And no one is directly assigned to work with you or to be your technical mentor. So you need to take the initiative and be proactive in making contacts and seeking collaboration. Head into the scheme with an idea of what you aim to gain from the Turing environment, then just go for it.
Being an Enrichment student at the Turing has been a fantastic experience for me. I hope it will be the same for you. Good luck!