What do you get?
A team of doctoral students, early career researchers, and post-docs from across a broad range of disciplines, whose quick, agile thinking will help tackle your challenge. A facilitator is also pre-selected by the Institute for each challenge to help the team fulfil their potential and ensure everybody is engaged.
On the last day of the event your Challenge Team will present their findings. Following the week, you will be sent a report detailing approaches explored and possible further avenues to investigate, along with any code generated. The reports and code (with embargoes or minor redactions if necessary to protect any commercial or other sensitivities) will later be published on the Institute's website, so researchers can evidence their participation.
Many organisations who propose a challenge for a Data Study Group continue their engagement with the Institute and with the participants themselves. This could be through collaborating on an academic paper or conference submission, deeper investigation of results and recommendations, or even recruiting participants.
"The Data Study Group week was one of the best experiences I've had working with external suppliers of any kind in my eight years in the Ministry of Defence. A large team of very capable academics worked extremely hard on my problem and demonstrated multiple approaches to solve it. To have so many interesting approaches thoroughly explored in such a short time period is very impressive and incredibly useful to our organisation."

'Matt', Dstl (Defence Science and Technology Laboratory)
How do you engage?
Preparing for a successful Data Study Group requires a commitment and buy-in from you and your team. The process usually needs around five to six months of preparatory time; this can sometimes be accelerated for challenges which already have a high readiness level.
If your challenge is accepted for a Data Study Group, the Turing's team will work with your organisation to complete preparations, and our DSG Science Leads will help you shape your challenge so that your organisation gets the most out of the week.
We require a representative of each DSG Challenge Owner, with the necessary technical background (e.g. an analyst, engineer, scientist), to take part in the week embedded alongside the Challenge Team; this is an excellent opportunity for the representative to learn about new data science approaches and enhance their professional development. This person should not direct the team, but should be someone who can provide insight into the business problem, the dataset, and any approaches that have been tried before.
We also welcome challenges from academia. They will need to go through the same process as other organisations and should submit a challenge proposal form or an enquiry below, with an overview of the challenge to be presented.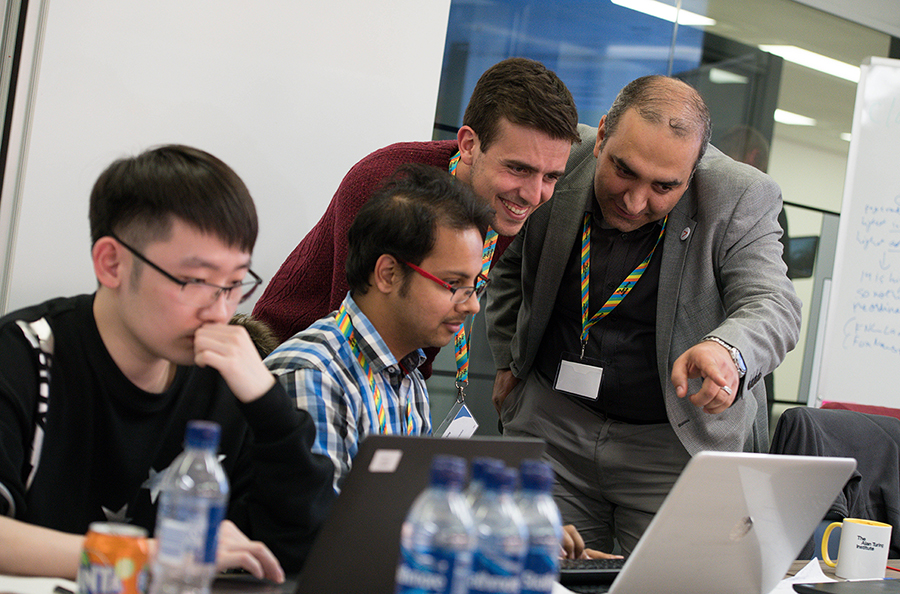 Considerations
You will need be able to share the necessary datasets with the Institute, which should ideally be 'clean' datasets ready for analysis.

This may mean you need to anonymise or otherwise prepare the data.
The time required for data governance and preparation processes needs to be factored in.
Participants are required to sign terms and conditions with the Institute to ensure confidential data and insights are not shared.

The report will be published on our website (subject to anonymisation or limited redaction, to protect data and processes if necessary).

Our academic participants are voluntarily taking part in a Data Study Group. Publishing reports ensures they can reference the publication in their CVs, and benefit from their association with the event.
If you would not be comfortable with a report being published, a Data Study Group is not the right mechanism to engage.

This is not a consultancy-type engagement. The DSG Challenge Owner sets the challenge but does not direct. The representative present for the week can greatly help their challenge team by providing background knowledge and support.
If a Data Study Group is not right for your organisation or your particular challenge, there are other ways for you to engage with the Turing and with our researchers.
Enquiry Form
If you would like to enquire about being a DSG Challenge owner please fill in the enquiry form below.