About the event
We invited data practitioners, senior PhDs, postdocs and other early career researchers to apply for our next Data Study Group taking place at the Turing Institute April 16 – 20 2018. Further detail on the Challenges for the next Data Study Group is available on this page.
Last autumn, we announced the Accenture and Turing Alliance for Data Science – a research based alliance to pioneer next-generation artificial intelligence and data science tools to drive real world business and social impact. 
As part of this, the challenges for this upcoming DSG have been curated in collaboration with Accenture. A selection of Accenture's clients will each present a defined and complex data science challenge for groups of researchers to tackle over an intensive week in London. The week will culminate with each group presenting their findings, with the publication of a report to follow.
Challenges 
Fairness in algorithmic decision making (Accenture)
Monitoring online violence against high profile individuals (Amnesty International)
Machine learning for predicting and mitigating operational risk (provided by a global bank)
Predicting speech and language recovery post-stroke (PLORAS project, UCL)
Improved strength training using smart gym equipment data (eGym)
Please note that previously advertised challenges from a broadcast media company and Plan International have been withdrawn from the Data Study Group event. The eGym challenge has been added in their place (updated 10 April 2018).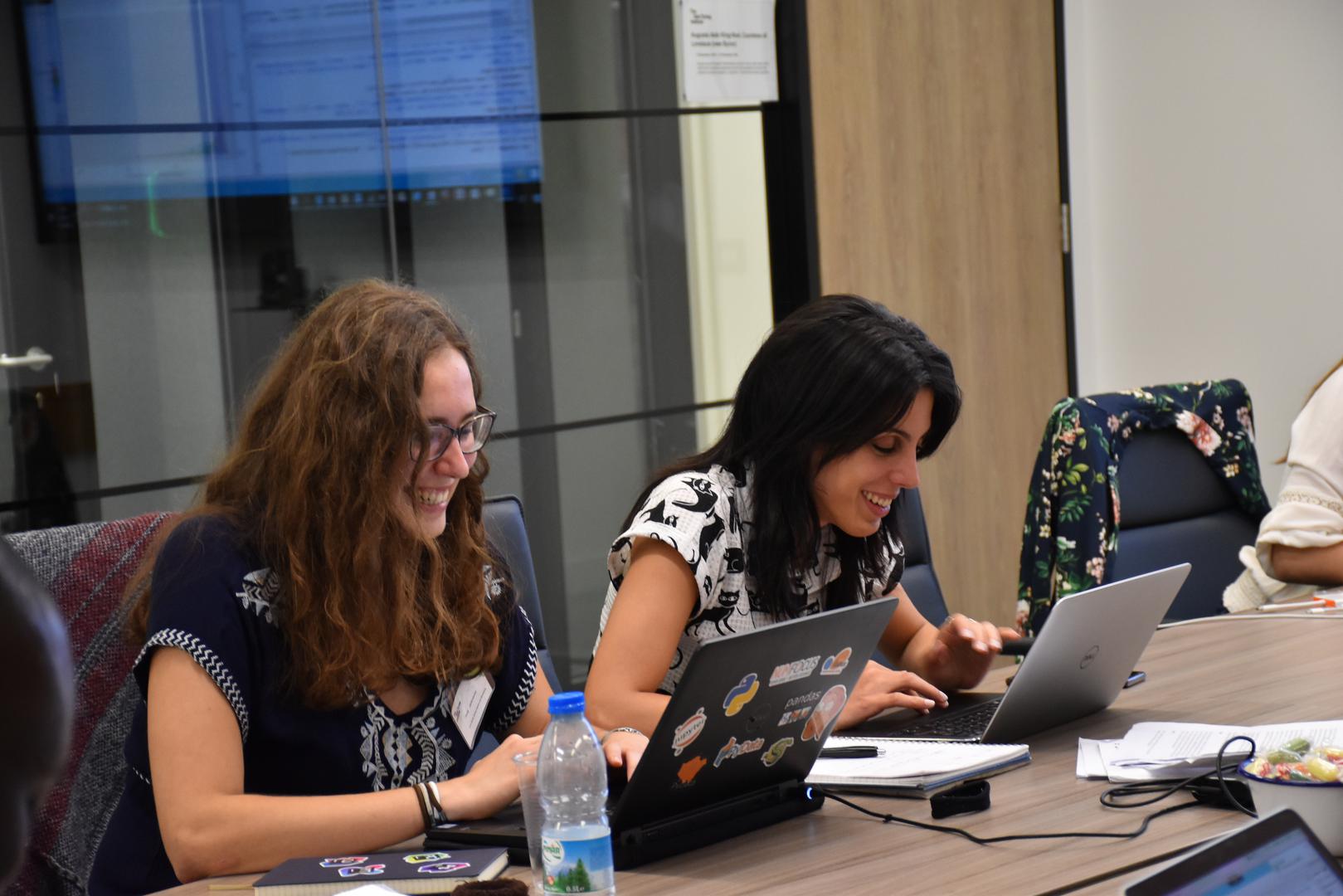 Reasons to apply
The Turing Data Study Groups are popular and productive collaborative events – they are a fantastic opportunity to rapidly develop and test your data science skills with real-world data. Participants have the chance to forge new networks for future research projects, and build links with The Alan Turing Institute – the UK's national institute for data science.
The Turing Data Study Group brings together researchers, data practitioners, and industry representatives from leading organisations to work together on data science challenges posed by partner organisations in multi-disciplinary teams, enabling researchers to build collaborations and work with real-world industry datasets.
It's a lot of fun, a lot of hard work and a crucible for innovation and excellent science, and new friendships.
In light of the ongoing industrial action and delayed communication through some of our channels, the deadline was extended to Tuesday 20 March 23:59 GMT. The call for applications is now closed.
Data Study Groups take place regularly throughout the year. Complete our participant form to be contacted regarding future Data Study Group opportunities or email us to find out more.
We also shared a list of skills that we think are particularly relevant to the challenges posed at the April event: data visualisation and analysis, supervised modelling, risk/severity modelling, time series, panel data, factor models, anomaly/change-point detection, statistical theory, fairness, data ethics, integration of heterogeneous data streams, NLP/text analysis, deep learning, medical image processing, neuroscience.
Please note, this list is not exhaustive and we are open to creative interpretation of the challenges listed.
In general, as the Data Study Group takes place over 5 days, we prefer applicants who can attend the entire week. However, we can offer flexibility and will consider participants for 1 or more days.
The Alan Turing Institute will cover travel costs and provide accommodation for those who are not normally London-based. Lunch and dinner is also provided during the week.
Challenges descriptions
Fairness in algorithmic decision making
This is a different kind of challenge to the others presented, with a theoretical and ethical edge. Rather than focussing on quantitative analysis of a specific dataset, the challenge will be towards defining a framework to assess the risk of unfair or biased results inherent in data-driven models.  Both social and statistical methods will be required to advance pragmatic solutions.
Monitoring online violence against high profile individuals
Abuse on social media is a growing problem. Amnesty International wishes to drive campaigns against it and to hold those social media sites to account. This challenge will explore automated algorithms, supported by the Amnesty Decoders crowdsource project, that could flag up abusive tweets and explore possible mechanisms behind them.
Global bank
Machine learning for predicting and mitigating operational risk
Operational risk modelling aims at preventing non-market/credit type events such as fraud, privacy and security breaches. This challenge will investigate the feasibility to do so through advanced machine learning and Natural Language Processing techniques.
PLORAS project, UCL
Predicting speech and language recovery post-stroke
100,000 people suffer a stroke every year in the UK, of which approximately 1/3 will subsequently experience some degree of impairment in their ability to communicate. This challenge seeks to explore how brain scans and demographic data can be used to generate individualised predictions for the degree of functional impairment immediately after a stroke, as well as the degree of recovery possible through rehabilitation.
Improved strength training using smart gym equipment data
Systematic recording of ordinary gym users' training activity and results through eGym's digital training devices enables systematic study of strength training and training success.
Using this data and modern machine learning techniques, the challenge is to systematically model human strength training, with the aim of automated creation of individually tailored training regimes.
Find out more
Find out more about our Data Study Groups
Find out more about the Accenture and Turing Alliance for Data Science
If you have any queries, email Data Study Group for more information.
#TuringDSG and #A4DS