About the event
Advances in digital technologies are redefining opportunities around the world to develop new economic value, to govern and serve within more accessible societies, and to empower individuals. Legal recognition of identity, the ability to establish trust in who we are, is a foundational component of society, a powerful tool that confirms access to life-sustaining resources and services, alongside evolving opportunities: It is enshrined in the Universal Declaration of Human Rights.
Digital innovations in identity bring new opportunities to create transparency, fairness, and better-governed services. They also create the potential to distribute and interpret significant amounts of information about people and their communities.
The Turing's work in trustworthy data systems is advancing applied research for data science, artificial intelligence, and privacy-enhancing encryption that is delivering significant impact in the fields of healthcare, national security, finance, and criminal justice. Our trustworthy digital infrastructure for identity systems project is further developing this impact with a transformative opportunity to mature collective appreciation for the design and development opportunities to be had, and the policy choices to be made in upholding trust as a systemic imperative for identity systems.
Sign up to our trustworthy digital identity newsletter
You can view the sessions from the conference here
Outcomes
The Alan Turing Institute's Trustworthy Digital ID conference highlights the need to clarify purpose in Digital ID Design
The inaugural Trustworthy Digital Identity (ID) conference elevated a growing understanding of requirements for the protection of human rights and examined the varied risks involved. Industry innovators, academics and government officials from across 29 countries came together for the (virtual) event hosted by The Alan Turing Institute on 13 September 2021. 
Sessions at the event focussed on the impact of the growing use of digital ID and identity data, particularly for the most vulnerable in society, and how this experience should inform systems design.
The audience was global and attendees represented 29 countries, including UK, US, Brazil, Netherlands, Switzerland, Peru, Nigeria, Kenya, Canada and Australia. 38% were academic, 29% were industry experts and 19% were from the government / third sector. This represents the themes from the day: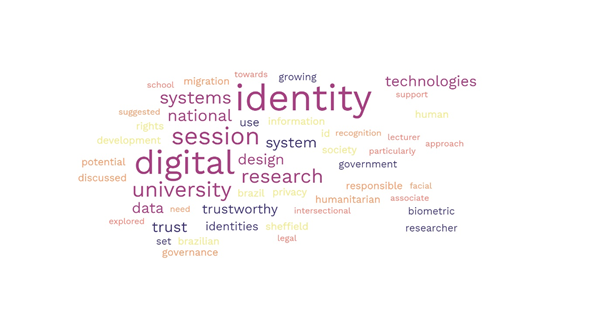 Leading insights included: mortgage application outcomes; evolving attitudes toward biometrics; frameworks vs central systems; use of government datasets; changing relationships between citizen and government; fragmenting accountability and lenses to strengthen representation in AI.
Session highlights included:
Hannah Rutter, Deputy Director, Digital Identity and Secure Connected Places, DCMS, keynoted the conference with an overview of the UK programme to set out standards within a Trust Framework for the development of Digital Identity products in the UK, by highlighting the importance of understanding what it is not.
Rutter pointed to ambitions to save an estimated £800 million a year for UK businesses with the widespread use of digital identity and attribute products that could be trusted.  She also outlined the intent to introduce legislation that would enable more government datasets to be checked, so that people can prove who they are in the UK - not just by having a passport but, for example, checking against benefit statements or other bits of information that government already holds.
Harry Farmer, Researcher, Ada Lovelace Institute, illustrated how public sensitivities to the use of biometrics are evolving with findings from their recent Citizens' Biometrics Council:   
"People are becoming sensitive to the fact that biometric ID systems can be used to enable a particular kind of ambient surveillance that is difficult to become aware of and quite difficult to escape, and they are aware of the potential of that kind of surveillance to undermine free, open societies," he said, while also pointing to a desire to lower the stakes of failure and errors: "There was just a general feeling amongst the public that there should not be the use of biometric identification systems for anything where failure would be catastrophic." 
Event participants also considered the influence of digital ID on centralising relationships between government and its citizens, citing experiences from around the world across humanitarian and national contexts.
Katelyn Cioffi, Research Scholar, Center for Human Rights and Global Justice, NYU School of Law, suggested digital ID is altering the relationships states have with their citizens, citing experiences in Uganda and lessons applicable to other countries, both developed and developing economies.   
"I think the social contract behind the delivery of welfare payments has been affected by the introduction of digital ID. The authority to make determinations about the program has become removed from the local communities where it was originally located. It has changed the way the social welfare system is viewed, as it is no longer seen as something local but something more centralised and much more dictated by powers that are beyond the local community," she said, after also pointing out that "Institutional responsibilities for administering the right to social security have become increasingly fragmented because of the introduction of the digital ID" and that, over time, pressures develop to service the infrastructure or coerce people to sign up: "The infrastructure needs to be serviced and becomes a policy area of its own, rather than being seen as a mechanism of improving service delivery."
Overall participants agreed on the universal need to develop a richer understanding of the context of digital identity installations. One session outlined the potential to analyse data from an intersectional perspective.  Noting that intersectionality was initially rooted in Black feminist thought, the speaker said it provides a framework for considering how multiple aspects, such as age, gender and ethnicity come together to increase privilege or discrimination, or disadvantage or advantage that a person experiences.
"Key recommendations are that institutions need to centre the voices of individuals at greatest risk of marginalisation or discrimination, promote equity across the data chain and this is really where we see how everything from identifying a citizen group, collecting data from or about them, all the way to how this data is used and impact on their lives is considered," said Caitlin Bentley, Lecturer in AI-enabled Information Systems, University of Sheffield.
Babatunde Okunoye, Research Affiliate, Berkman Klein Centre for Internet and Society, Harvard University; Department of Journalism Film and Television, University of Johannesburg, emphasised that: Trusted ID systems must be "birthed via public consultation," use open technology, and be open to audits.  He also noted that:
"Politics trumps everything. The nature of government in power can make nonsense of whatever design is implicit in particular ID systems. For example, in Afghanistan with the government left placing precious data at the hands of the Taliban. What was used as a tool for management has become a hit list."
Turing research lead and conference chair Carsten Maple, argued that research in this field must be conducted by and with the whole community, and not limited to the towers of academia in his concluding remarks: 
"This has been an enlightening event that succeeded in bringing together global leaders from academia, industry, government and the third sector to share insights, learning and opportunities to drive this vital sector forward. It builds on the work we are leading on at the Turing – to elevate understanding across the globe about the opportunities and risks associated with digital identity.
"Recent events reported in the mainstream media highlight the importance of having identity systems that are trustworthy. Digital innovations in identity can bring new opportunities to create more trustworthy systems that better provide secure, privacy-preserving, transparent, fair, resilient and better-governed services.  I hope this event proves to have been instrumental in building ideas and connections to realise the vision of trustworthy identity systems."
Post-event, an attendee said: "Just a quick note to say that yesterday was marvellous. It's a long time since I attended an identity conference where I learnt so much – brilliant to hear from such a diverse group of presenters and such a professional job from you and the team at the Turing."