Professional isolation, sexual harassment, bullying, discrimination and difficulties balancing work and family life are experiences disproportionately affecting women, ethnic minorities, LGBTQ+ people and people with disabilities working in science, technology, engineering and mathematics.
At a two-day hackathon event hosted at The Alan Turing Institute in London last month, Gamechangers for diversity in STEM, 40 concerned and highly committed researchers, academics, entrepreneurs, practitioners, students and science communicators came together to develop practical and actionable solutions to tackle the enduring lack of diversity in STEM.
The hackathon was co-organised by Dr Kirstie Whitaker, Turing Research Fellow and researcher at the University of Cambridge,  Dr Jess Wade, Dr Hannah Williams and Devjoy Dev from Imperial College London), and Dr Sarah Morgan (University of Cambridge). The event was sponsored by The Alan Turing Institute, HSBC, the Institute of Physics, the Royal Society of Chemistry and SPIE.
Following opening presentations from leading scientists and experts in STEM, participants worked in groups on projects to make STEM more diverse, before pitching their projects to potential investors to win £3000.
Highlights from the opening talks
With a focus on the under-representation of women across AI and related industries, Co-Founder of CognitionX and Chair of the UK government's AI Council Tabitha Goldstaub used her opening talk to draw attention to the barriers preventing or discouraging women from entering AI and the implications this has for the design and development of products and services.
Royal Astronomical Society Fellow at Imperial College London Dr Emma Chapman shared a troubling account of the repeated sexual harassment she experienced while undertaking her PhD, culminating in her resignation in her third year and a protracted two-year legal campaign to end university rules which stop victims of sexual harassment from speaking out:
IET Young Woman Engineer of the Year award winner and Electrical Engineer at Cundall, Dr Ozak Esu highlighted the specific challenges she encountered as a woman of colour with ambitions to become an engineer. She described a childhood experiences which saw her overcome traditional patriarchal attitudes within her family in Nigeria and both sexist and racial stereotypes in the UK.
Finally, astrophysicist, journalist and social activist Dr Alfredo Carpineti focused attention on the experience of scientists who are LGBTQ+.
Following through his premise that 'if you aren't raging, you haven't been paying attention', he called for an end to homophobia and transphobia across the scientific community and for an "inclusive and intersectional revolution".
Read our report with more information about the opening talks.
The winning projects
Two joint winning teams each picked up £1000 and two joint runner-ups won smaller £500 awards.
Winners
Roots to STEM, a project aiming to grow STEM aspirations and inclusivity among Keystage 2 children and their parents and carers across school districts around the UK.

Team participants were Sotira Georgiou, Athina Frantzana, Dr Katherine Inskip, and Dr Priyanka Dhopade.

Out and About in Higher Education STEM, a project to develop of a legal framework to support the global mobility of LGBTQ+ community in higher education. Team participants were Dr Eugenie Hunsicker, Dr Emma Nichols, Henry Li, Sarah Cosgriff, Dr Clara Barker, Dr Antonio Portas, Dr Alfredo Carpineti and Shakeel Khan

.
Runner-ups
Check yourself, an online tool providing ten easy steps to check the culture of diversity in the workplace. Team participants were Esther Osarfo-Mensah, Dr Samantha Hood, Dr Jane O'Hara, Dr Jenny Andrew, Dr Tana Joseph and Victoria McCallum
Next Level, a long term sustainable mentoring scheme aiming to raise awareness of career routes and opportunities in STEM for pre-GCSE children on free school meals.

Team participants were Laura Gemmell, Dr Paul Coxon, Shadab Ahmed, Floriane Fidegnon-Edoh.
To find out more about the event and the nine projects developed read the full report and listen to the podcast.
Join us in celebrating Ada Lovelace Day and sharing our report on social media using #STEMGamechangers.
Full report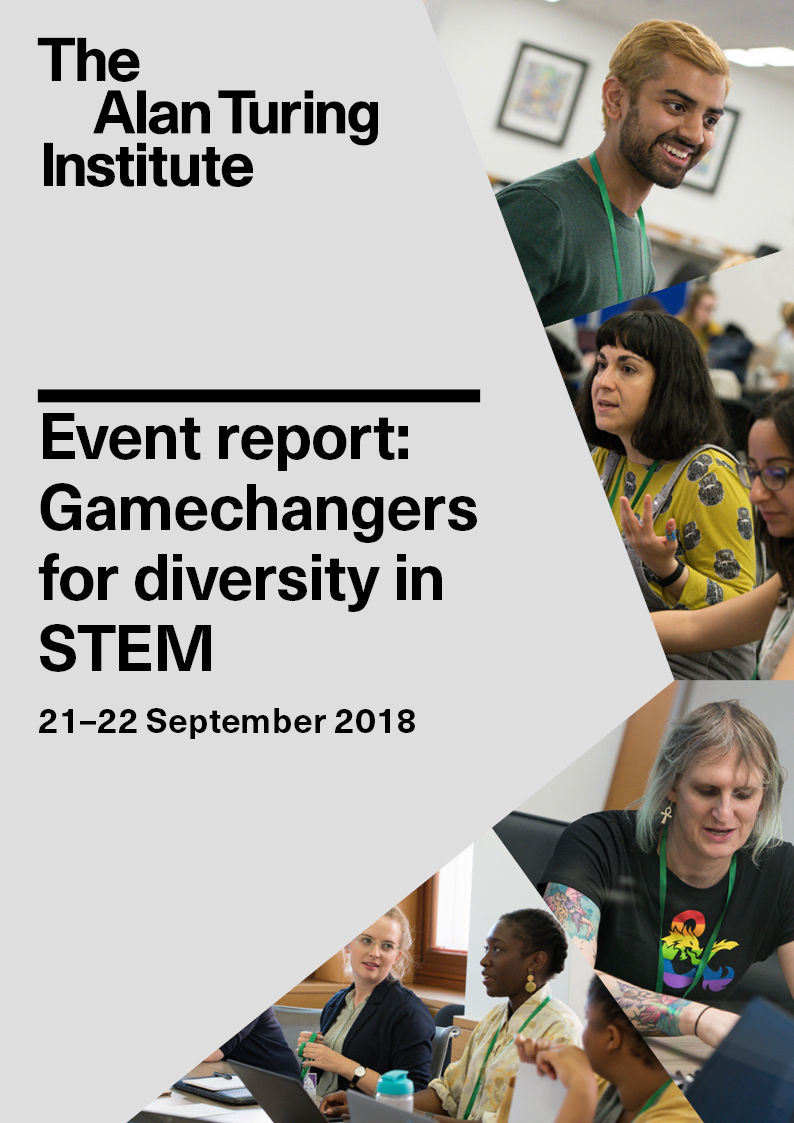 Conclusion
Many thanks to our investors and sponsors for this event: The Alan Turing Institute, HSBC, Institute of Physics (London and South East Branch), Royal Society of Chemistry, International Society for Optics and Photonics, Cavendish Inspiring Women (affiliated organisation), Imperial College Women in Physics Society (affiliated organisation), Accenture and Bank of America, and to our award judges: Victoria Thorpe (Accenture), Selina Pavan (Bank of America), Samantha Edgar (HSBC) and Elaine Safier (HSBC).