As the University of Edinburgh unveil their multi-million pound new building, the Bayes Centre, we speak to Professor of Robotics Sethu Vijayakumar about the links between AI and robotics, and his new role as the Turing's Programme Co-Director for Artificial Intelligence.
Robots. That's the first thing you see when you walk into the airy glass and concrete atrium of the University of Edinburgh's new multi-million pound Bayes Centre. Lots of robots. The centre's Field Robotics Lab has wheeled ones for radioactive environments, many-legged ones for navigating uneven terrain, and even a humanoid one, NASA's Valkyrie, currently being trained to dextrously manipulate objects with an ambition to be deployed on Mars. "We want to push the robots to their limits", Professor Sethu Vijayakumar, Director of the Edinburgh Centre for Robotics, explains, "and this is a custom built space in which to do exactly that."
Professor Vijayakumar, recently announced as Programme Co-Director for Artificial Intelligence (AI) at the Turing, is enthusiastic about the potential for the new Bayes Centre, which aims to be a proving ground for data-driven innovation and houses a range of organisations, including the Turing's Edinburgh hub. "Across our labs [at the Bayes] we've got huge amounts of sensors, cameras, and motion tracking systems, both on the robots and fixed on the walls and ceilings. These bring great data science challenges in how to efficiently process real-time information produced under constraints. What's fantastic about the Bayes is that it brings together talent, be it parallel computing from EPCC or mathematical expertise from ICMS, or from across the Turing's network, which is great for the cross-pollination of ideas."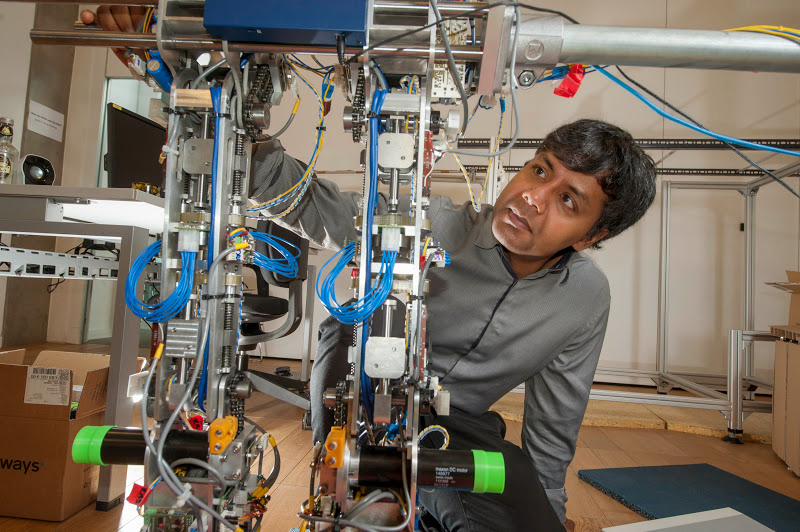 Vijayakumar is keen to use his new Co-Director role at the Turing to further encourage interdisciplinarity. "My ambition is to try to marry my passion of machine learning and statistical methods, in which the UK has world class talent, with solving problems arising from, and in the deployment of, robotic platforms." Such problems aren't all about navigating extreme environments like other planets or radioactive cores – the robotics research at the Bayes includes mocked-up assisted living and medical settings where robots can aid and monitor activity, a VR lab for human gait analysis, and exoskeleton rigs for testing limb prostheses.
This varied research presents many opportunities for data science and machine learning to play a part. Vijayakumar explains, "There are some very interesting theoretical, conceptual, and algorithmic problems that come up in the robotics domain that can be very good challenges for people working in data science to tackle." He goes on to describe his vision for how the relationship between the Turing and Bayes Centre will enable the sharing of these challenges. "We want to create living labs that bring together different stakeholders to test technology in real-world scenarios. We can do this by enabling core developments in data science and scalable algorithms and bringing in end users and companies to develop proof of concept testbeds, to help translate world class lab research. With the Turing's network we'll have access to the right kind of talents to push this work forward."
"We need to be able to tell the public about the tremendous opportunities of technology, but also what its limitations are"

Sethu Vijayakumar
Real-world applicability is something Professor Vijayakumar stresses repeatedly. "More and more, we are seeing robots and humans and other AIs interacting with each other", he explains, "so we need to think very carefully about the effects these interactions have." The Turing has a strong track record in the fairness, transparency, and ethics of data science and AI, and Vijayakumar feels that robotics research should be no different, "We are looking at explainable and verifiable AI for robotics, and trying to understand the causal reasoning underlying the performance of algorithms used in robotic platforms."
He is also keen to ensure that the perception of robotics and AI is positive, but also realistic. "As practitioners we need to be able to tell the public, and law makers and the government, about the tremendous opportunities of technology, but also what its limitations are. We want to 'bust the hype', manage expectations, and allay fears."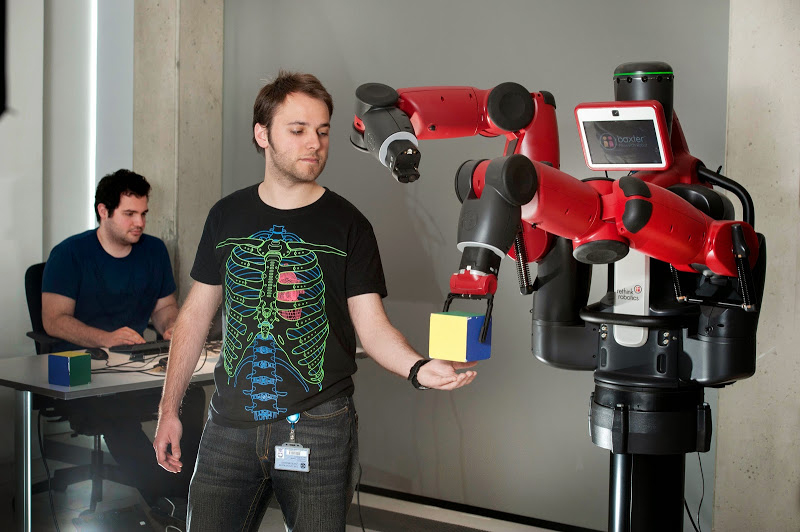 Professor Vijayakumar is no stranger to interacting with the public. In addition to being involved in the Edinburgh Science Festival for over a decade, and helping the BBC launch Micro Bit, where over a million Year 7 (11- and 12-year old) students were given a free microprocessor to help them learn programming and coding by creating interactive gizmos, he was also a judge on the recent series of BBC's Robot Wars: "It was fun! But the main agenda was getting young kids excited about hardware, engineering, building stuff, and working as a team. Unless we really get young minds interested in these kind of areas we will not be able to create and innovate the complex AI systems of the future."