Last week, the Turing headed to Cog X London 2017, the world's first innovation exchange and awards conference hosted over two-days to explore the impact of artificial intelligence (AI) on business, society and government.  The aim was to convene thought leaders from education, cyber security, government, and more in one place to discuss how we can move the conversation around the impact of AI forward. It was well attended by industry, academia, government, tech/AI start-ups, CEOs and investors with a view to releasing a written report of the findings from breakout sessions following the event.
We were there to host our first stand to introduce The Alan Turing Institute to delegates and hear Turing speakers give keynotes on a range of topics from mental health and cyber security to precision ethics and data privacy.
Six Turing researchers took part in themed panels over two days:
Jon Crowcroft – Impact of AI on Cyber Security
Maria Liakata and Chanuki Seresinhe – Impact of AI on Mental Health
Kenji Takeda – Impact of AI on Healthcare
Dong Nguyen – Precision Ethics
Sandra Wachter – A Look at Data Privacy, Data Ethics & GDPR
Responsible AI and governance was a key theme across the panels, reflected strongly by the Turing researchers. Sandra Wachter, who specialises in data ethics was nominated for two awards at Cognition X including AI Contribution – Rising Star (Leader Under 30). Recognising innovation across over 20 industries and highlighting the greatest contributions from entrepreneurs, to government to investment to ethics, Sandra went on to win the "Superhero in AI" award. A big congratulation to Sandra and the CogX team for pulling together an encouraging and engaging event themed around the potential for AI in just a few months.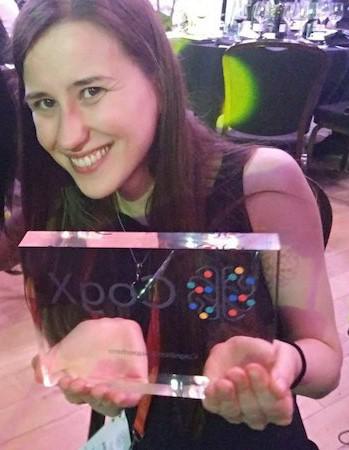 Sandra said:
"CogX was a remarkable conference and my panel gathered distinguished experts in AI leading to an inspiring discussion. I was overwhelmed by the positive feedback and I am pleased to see data ethics is on everyone's mind. I am truly honoured to receive this award for my work in data ethics. None of this would have been possible without the incredible support of the Turing and the Oxford Internet Institute. I am very proud to be part of these institutions dedicated to researching how data science can change world for the better."
We enjoyed the many conversations that flowed from visitors dropping by the Turing stand, introducing the cutting-edge work of our researchers, and sharing information on our current partnerships and how to collaborate with the Institute.
You can listen to Cognition X co-founder Tabitha Gold give an overview of the conference on Radio 4 at 23:50 min.
Reports from the event will be hosted soon on Cog X London 2017.
Shana Tufail, Communications and Marketing Manager