Over the past three months, researchers from The Alan Turing Institute have collaborated with Winton, a data-driven global investment firm, to offer expert advice to five new start-ups taking part in the Winton Labs accelerator programme.
The five early stage start-ups won their place on the accelerator programme from over 100 applicants, in a judging process involving Dr Sebastian Vollmer, Faculty Fellow at The Alan Turing Institute and researcher from the University of Warwick. They  include Terrabotics, who have developed algorithms that create 3D measurements of the earth from satellite imagery, Alterest, a small company with the aim to bring transparency to non-bank credit markets, Smart Meter Analytics Platform, an energy AI start-up, Cognitiv+, who combine extracted contract data and real-time regulatory changes to provide legal analytics and alerts, and Warwick Analytics, who have designed a product for automating the predictive data analytics process.
Throughout the programme researchers from the Turing acted as mentors for the five companies, offering technical advice building on their own academic and industry experience and connections in the field. The five businesses will now present their businesses to an audience of investors at a special 'Demo Day' event on 9 February 2017.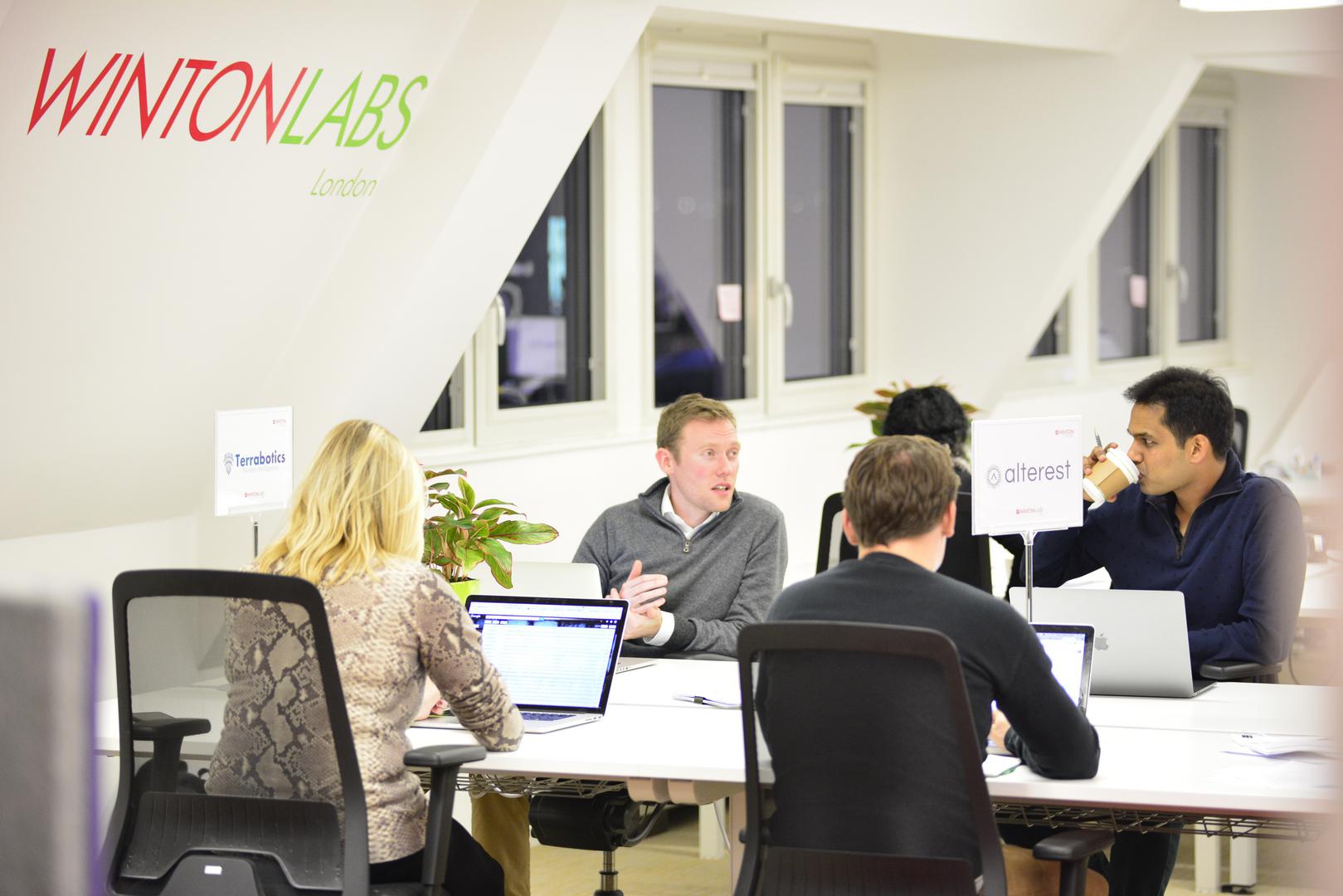 Team members from Alterest and Terrabotics at the Winton Labs headquarters.
Sebastian Vollmer commented:
"The quality of the start-ups we have been working with on the Winton Labs programme is exceptional. They demonstrate the cutting edge of data science as applied to industry, and it has been a pleasure working with them to boost their technological development over the course of the three- month accelerator programme."
Sir Alan Wilson FBA FRS, Chief Executive of The Alan Turing Institute, commented:
"The SME landscape is a hotbed of innovation when it comes to algorithms, big data and artificial intelligence. As the national centre for data science part of our role is to nurture the next generation of data science leaders and entrepreneurs, and it is fantastic to see this work getting started through the collaboration with Winton Labs.  I look forward to seeing what these five start-ups go on to achieve, and I would like to thank the researchers from The Alan Turing Institute for offering their support and expert advice throughout the process."
About the five start-ups 
Cognitiv+, an artificial intelligence platform that automates knowledge extraction from legal data, have recently won a major Grant with InnovateUK on the open-programme; one of the most competitive calls in 2016. Since starting on Winton Labs they have started five pilots in Q1 2017 alone. They have also been named Export Champion as part of the CommonwealthFirst programme.
SMAP Energy, who use energy consumption data collected via smart meters to innovate the energy sector, now manages data from 30,000 smart meters in Japan and will be starting engagement with a Middle Eastern client in March. The team launched AIswitch recently, a free smart energy switching service for UK customers, while co-founder Yohei Kiguchi was named in the Forbes 30 Under 30 Europe list.
Warwick Analytics, who automate predictive analytics even with heterogeneous data, have seen strong commercial progress with key enterprise companies, and will be moving from Winton Labs to the IAG accelerator: Hangar 51. Warwick have recently opened their US office, and current tech development will see a new release in Spark in under a month.
Terrabotics: Transform terabytes of satellite and aerial imagery into very high precision true 3D terrain data to model the Earth. This period of acceleration has brought in clients including a major mining company, a Private Equity fund and an investment research firm, as well as increasing business with existing customers in global Oil & Gas.
Alterest, a cloud platform providing institutional debt investors an efficient way to access the growing non-bank lending market, have seen further product developments, expansion of the team, and officially signed up institutional investors as engagement clients during the programme.
About Winton Labs
Winton Labs aims to be Europe's premier startup accelerator for data science and machine learning companies. In its second cohort, the programme is working with five early stage companies where the creation of data or the application of data science is central to the business. The programme started on 15 November 2016 running for three months, ending on 9 February 2017 with a Demo Day. Some teams will stay on in the co-working space to develop their relationship with Winton and the other co-located startups.