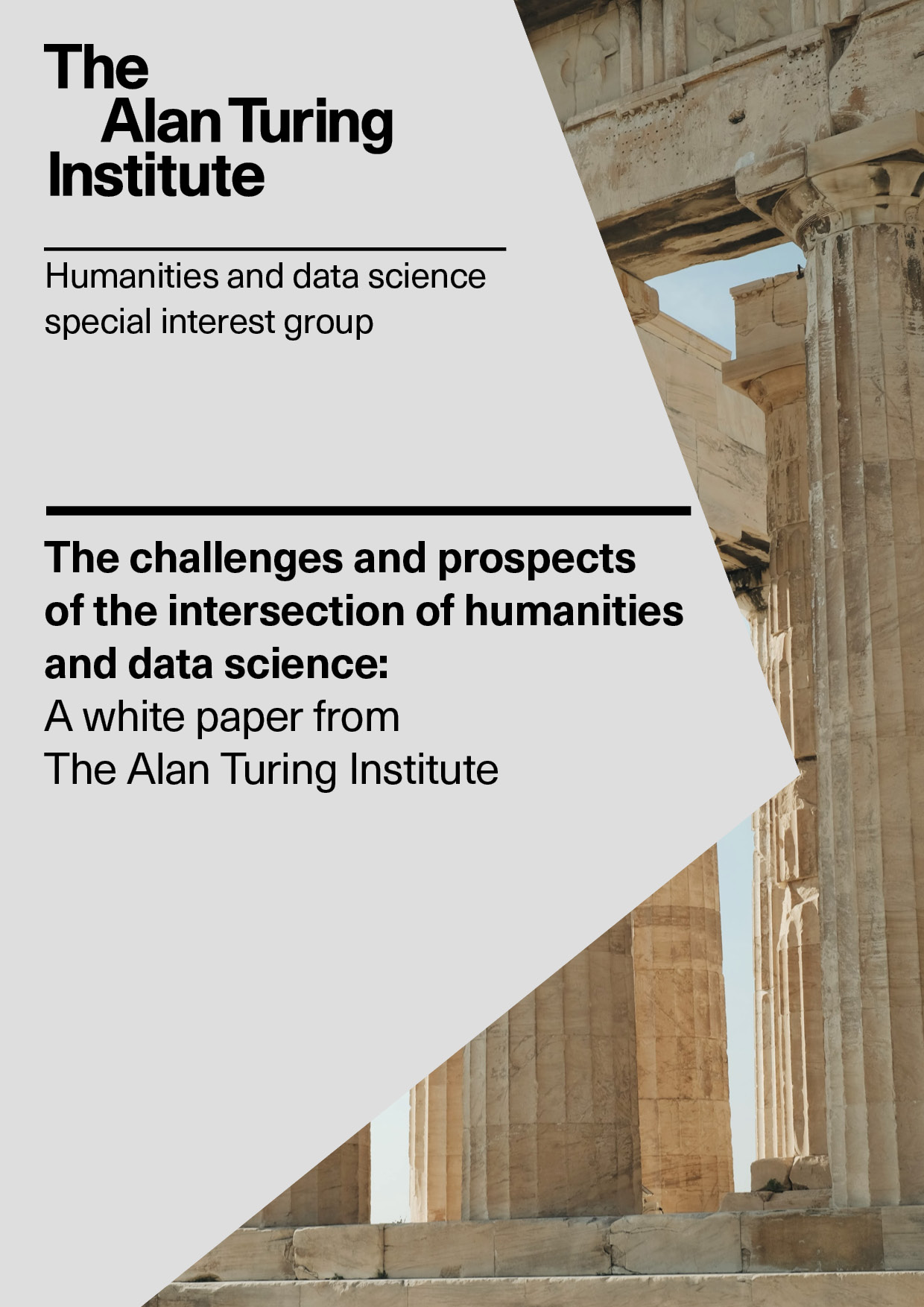 A new white paper published today (Tuesday 4 August) explores the great potential for ground-breaking new research at the intersection between data science and humanities disciplines and offers key recommendations for funders, academic institutions, and researchers.
The paper 'Challenges and prospects of the intersection of humanities and data science: A white paper from The Alan Turing Institute', has been produced by the Institute's Humanities and Data Science special interest group - an extensive, multidisciplinary group of researchers from a wide range of universities and cultural organisations including The National Archives, The British Library and The National Library of Scotland. 
Digital tools and data science present many opportunities that could transform humanities research. At the same time, the humanities - academic disciplines that study aspects of human society and culture - also have the potential to transform data science research. This should be a two-way exchange of approaches and knowledge. The new paper defines the UK's current landscape of digital humanities research and reflects on what data-driven research within the humanities entails. It also highlights a series of recommendations for how these two communities can more easily and better work together to realise the full potential of interdisciplinary work.  
The paper outlines recommendations in seven areas across two themes to support, and further, interdisciplinary research in data science and humanities, including:
Research Process 
Methodological frameworks and epistemic cultures: Develop common methodological frameworks/terminology and encourage wider use of shared research protocols in these areas. 
Best practices in the use and evaluation of computational tools: Use practices that ensure transparency and openness in research, and training programmes to help choose the most suitable computational tools in humanities research. 
Reproducible and open research: Promote transparent and reproducible research in the humanities, including data, code, workflows, computational environments, methods, and documentation. 
Enablers and support structures  
Technical infrastructure: Develop infrastructure to democratise access to digital resources and to guarantee their continued maintenance and improvement. 
Funding policy and research assessment: Create cross-council schemes which fund collaborative data science projects. Where appropriate, use of research protocols in data science projects concerning humanities data should include humanities perspectives. 
Training, education, and expertise: Upskill humanities researchers in quantitative and computational methods and incorporate these methods in undergraduate and graduate degrees. 
Career, development, and teams: Encourage multiple career paths and working examples so that students and early career researchers can see which career options might be open to them. 
Turing Research Fellow Barbara McGillivray said this about the paper: 
"Creating this white paper has been an incredibly instructive and rewarding experience. The paper's 25 authors come from a variety of backgrounds but have worked together to create a single collaborative text. I'm excited to see the impact this report will have on the national, and international, landscape of data science and humanities research." 
Notes to editors: 
This white paper was created by the Institute's humanities and data science interest group – the main aims of the group are to strengthen relationships and build collaborations at the intersection between data science and digital humanities. Organised by Turing Research Fellow Barbara McGillivray, Turing Fellow Beatrice Alex and Senior Research Software Engineer – Digital Humanities David Beavan. 

To find out more please email Barbara McGillivray at [email protected]