Introduction
Researchers and practitioners face a common need for high quality tools, practices, methodologies, platforms and systems.
Many domains can benefit from the deployment of cutting-edge algorithms and approaches, but these cannot be effectively applied unless realised as usable software libraries, reproducible analyses and workflows, or high performance computational environments.
The Research Engineering Group (REG) contributes skills in research software engineering and data science in support of other programmes, as well as to its own projects. This model of working ensures that the tools they develop are useful and applicable to a wider range of areas. The team supports professional delivery of impactful research across the Turing's programmes, as well as its own research interests.
The team concentrate mainly on:
Collaboration with academics across the Institute and supporting research with our software engineering and data science expertise.
Development of open reproducible practices and tools. 
Connecting academic research with real-world problems while working with strategic commercial partners.
Advanced support and provision of computing platforms that underpin research.
Teaching and training.
To keep up to date with the team, follow us on twitter: @turinghut23
Header image: Close up of a Bletchley Park Bombe, designed by Alan Turing and his colleagues to decipher German Enigma machine messages in WW2. Source: mendhak, Flickr, Creative Commons.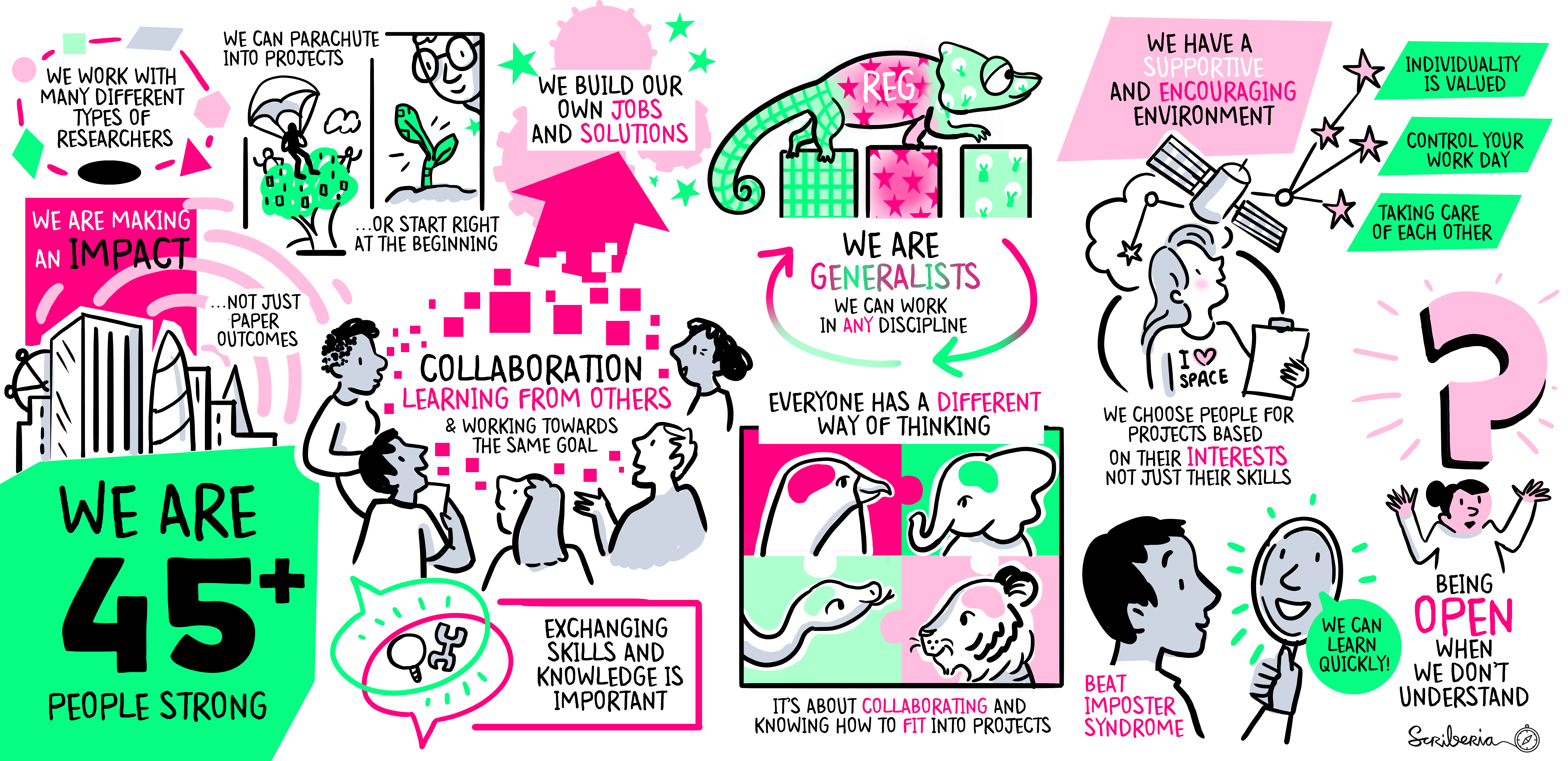 Projects
Research Engineering is involved in many projects across the Turing, collaborating both with academics and strategic commercial partners.
Below is the list of our most recent projects, the full list can be found here.
Blogs and News Stories
For a full list of blogs and news associated with REG see here.
Events
The most recent events involving REG are shown below. For a complete list see here.

Monday 13 Mar 2023 - Friday 24 Mar 2023
Time: 09:00 - 17:00

Monday 13 Feb 2023 - Friday 03 Mar 2023
Time: 09:00 - 17:00

Tuesday 17 Mar 2020
Time: 10:00 - 18:00
Publications
Below is the list of our most recent publications, the full list can be found here.
research_publications
Caitlin Robinson, Rachel S. Franklin & Jack Roberts (2022) Optimizing for Equity: Sensor Coverage, Networks, and the Responsive City, Annals of the American Association of Geographers, 112:8, 2152-2173, DOI: 10.1080/24694452.2022.2077169
research_publications
Petricek, Tomas; van den Burg, Gerrit J. J.; Nazábal, Alfredo; Ceritli, Taha; Jiménez-Ruiz, Ernesto; Williams, Christopher K. I. "AI Assistants: A Framework for Semi-Automated Data Wrangling". IEEE Transactions on Knowledge and Data Engineering 2022
research_publications
Ed Chalstrey, Research Data Scientist, Research Engineering Group, The Alan Turing Institute. October 2021.