Introduction
Numerous studies have confirmed that autistic people experience sensory processing differences, and that this can significantly impact their lives. One aspect which is not yet fully understood is how these differences affect the ways in which autistic people navigate different environments. Using participatory methods, this project will build a citizen scientist platform which will collect rich information about people's experiences navigating the world. The data can be used to improve public and private spaces for autistic people, educate the public, and help create strategies to cope with, and remove, barriers autistic people may face.
Explaining the science
Autism 
Autism is a spectrum of developmental conditions. Around 1/100 people in the UK are autistic. More information is available at Autistica's website.
Citizen science
Citizen Science is when non-professional scientists contribute directly to scientific research. This could be, for instance, by contributing data or performing tasks. 
Participatory science
Participatory science means that members of the affected community are directly involved in research as more than research subjects: they are active contributors on a number of levels, for instance by setting direction, having influence over critical decisions, or designing the procedures and modes of the study itself. 
Open source 
Open source refers to software which is released under an Open Source License, meaning that anyone is free to reuse, modify, share, and build upon the code. The code is often built collaboratively and openly with a range of volunteers. 
Project aims
Understanding sensory processing differences in autism was one of the autistic community's top ten research priorities, identified in the 2016 James Lind Alliance priority-setting partnership led by Autistica.
To help investigate this issue, an online, citizen science platform will be built to gather information at scale on experiences of sensory processing and navigating different environments. This will increase understanding of sensory processing in a way which improves the daily lives of autistic people. The project will be participatory from the ground up. All aspects of the project will be designed and developed in collaboration with members of the autistic community.
The platform will be developed under a free and open source license and all software, and design and process documents, will be made open. Integral to the project will be building and providing citizen scientists with a fine-grained consent model that supports individual contributor's personal preferences on how their data is used on the platform. The project aims to empower everyone in supporting autistic people and their families in living long, healthy, happy lives.
Ultimately, the platform, the fine-grained consent model, and the participatory practice developed, will be able to be adapted for subsequent research. The aspiration is to be at the forefront of change in creating the groundwork for more thoroughly participatory and empowering science.
Applications
This work has a number of directly impactful applications. The data collected can be used to better modify public and private spaces, such as workplaces, schools, hospitals, and public transport, so that they are more accessible (and enjoyable) for autistic people and their families. It can also be used to educate non-autistic people about the experiences of autistic people, so that they can modify their own behaviour, respond to autistic people with greater understanding, and are more able to offer support. Additionally, it can be used to create personalised recommendations and strategies for coping with different environments based on connecting people with others who have had similar experiences. 
The platform created will be easy to modify to answer other research questions. The fine-grained consent model can also be adapted for other research projects, allowing for a more individually nuanced and empowering way of collecting data for scientific research. The project will result in a framework for doing science in a way which is open and participatory, and the experiences and learning from carrying it out will be used to help guide fellow and future practitioners. 
Recent updates
June 2019
The project was presented at Autistica's 2019 Discover Conference on 27 June 2019.
Supporting and learning from the project was made a key part of Autistica's 2019 Action Briefing on Autism-Enabling Environments, which summarises important scientific findings about environmental adaptations for autistic people. The briefing was published on 7 June.
May 2019
The project was presented in a panel discussion at the Turing's Pint of Science event. The panel included representatives from The Turing, Autistica, and Autistica's Insight Group.
April 2019
Kirstie Whitaker and autistic co-author Sarah Markham presented to the Sainsbury Wellcome centre to showcase novel models of research to an audience of biomedical researchers.
March 2019
Georgia Aitkenhead and Dr. James Cusack, Autistica's Director of Science, presented the project to mixture of patients, government, the NHS, industry and academia at AMRC's 2019 Delving Into Digital Summit, with a focus on the reasons to address questions about sensory processing and autism as well as strategies for participatory science.
Organisers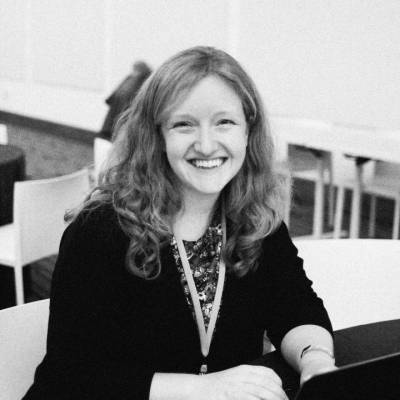 Programme Director for Tools, Practices and Systems

Director of Science, Autistica
Researchers and collaborators
Contact info
If you would like to receive updates on the project, you are invited to subscribe to the project's dedicated mailing list.
If you are an autistic person, or the relative or carer of an autistic person, you are invited to apply to join Autistica's Discover Network, which is used to recruit people for co-creation sessions, user testing, and focus groups.
For any questions, please contact Georgia Aitkenhead at [email protected]