Introduction
Despite rapid innovation in artificial intelligence that has the potential to impact future generations and their relationship with technology, there is little research done to examine children's experiences of AI. Our project involves engaging with children to explore what children think about AI, how they would like to see AI developed in the future, and how children can become more involved in shaping AI innovation, policy, and governance. From our public engagement work, we aim to use our findings to inform policymakers to support the development of child-centred AI.

Explaining the science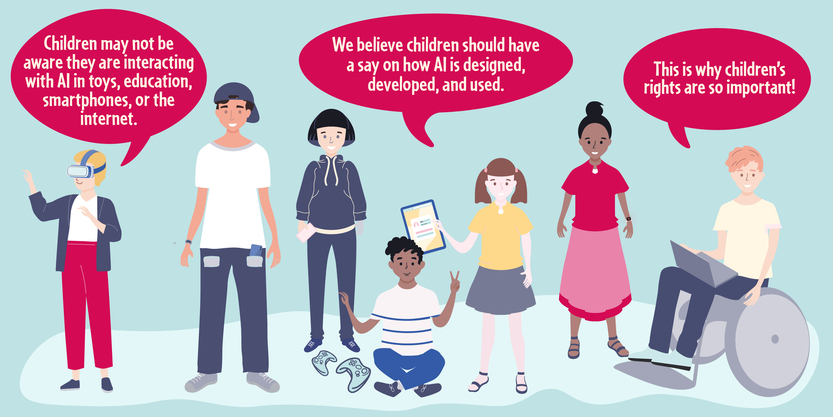 Whether in education, health, or in everyday lives, AI presents specific opportunities and challenges for children. Particularly following the COVID-19 pandemic, children have been more connected than ever, where physical forms of interaction, play, and schooling have migrated online. Some of these changes have been made permanent, with hybrid tools remaining in place. While research has been done to explore how adults engage with AI and algorithmic systems, much less has been done to assess their impact on children's lives.
As part of our project, we aim to bring together multidisciplinary research expertise and methodologies to examine children's understanding, knowledge, and engagement with AI and digital technologies. This includes conducting exploratory literature reviews, surveys, and public engagement work within and outside of the classroom to investigate the socio-technical and policy implications of children's current perceptions of AI.
Bridging the gap between theoretical considerations of children's interaction with technology and empirical insight into their opinions, aspirations, and questions about AI, our project team aims to support developments on policy, curricula, and the deployment of AI technologies for children to ensure that children's considerations are involved in decision-making about future uses of AI for their own benefit.
Project aims
This programme of work is being undertaken through several interrelated research projects: 
Piloting UNICEF's Policy Guidance on AI for Children
In 2021 we published a case study with UNICEF reporting the findings of our research which piloted UNICEF's draft Policy Guidance on AI for Children. Our research demonstrated a lack of research into children's experiences with AI and a pressing need to engage with children and young people to underpin the future involvement of children and young people in the development of child-centred AI. Our research also indicated that many public sector organisations recognise the importance of involving children in the design, development, and deployment of AI systems that use their data, but that they lack the experience, resources or skills to do so.
Reviewing Existing and Emerging Frameworks on Children's Rights and AI
In our ongoing research we are conducting a review of international frameworks relating to children's rights and AI. This review is examining the ways that children's rights are being advanced and protected in relation to AI and seeks to inform best practice in child-centred AI. The outputs of this research will provide useful tools and resources for policy-makers, developers, children and their guardians relating to children's rights and AI.
Engaging Children Across Scotland to Shape the Future of AI
Currently, we are collaborating with the Children's Parliament and the Scottish AI Alliance to engage primary school children (ages 8 – 10) across Scotland on AI and children's rights. A series of introductory workshops have been held with children in four schools across Scotland. Following this, we are working with children from across these schools who will continue to be engaged over the next two years. This project is exploring how children feel about AI, how they would like to see AI developed in the future and how children would like to be involved in the development and governance of AI. Our team brings expertise in participatory design, technical and non-technical dimensions of AI, as well as experience, hosting workshops and developing accessible content on these topics. We are fortunate to be working in partnership with Children's Parliament who has run many successful engagements with children—notably their most recent engagement strategy surrounding COP 26—as well as with the Scottish AI Alliance who is currently working on Programme 9 of the Scottish AI Strategy, 'Develop Scotland's approach to AI and children'. This research will serve to inform future research and practice on this topic, and it is our hope that it informs how public sector organisations best involve children in these processes in ways that empower them and help them to thrive in their environments.
Applications
AI is increasingly part of children's day-to-day lives with impacts often realised only in retrospect. Understanding the ways in which children understand, experience, and engage with AI could provide much-needed guidance for policymakers, AI developers, and affected stakeholders to inform future approaches to child-centred AI.
Specifically, our research engaging children across Scotland on AI and children's rights will contribute towards Scotland's AI Strategy to 'Develop Scotland's approach to AI and children'. It can also help to build out not only protections for children currently set out in the GDPR and Age-Appropriate Design Code, but also empower children in their use and understanding of digital technologies.
Broader applications and benefits of this project include critical research needed to lay the foundation and inform the landscape of children's rights as they relate to AI, especially as new technologies that directly affect children continue to be developed and deployed.
With this research, the case for children to be included as a key stakeholder group and be meaningfully involved in the development of child-centred AI will be further strengthened and help to ensure their voices are heard. This project also prioritises the diversity and inclusion of minority and marginalised groups as a key component throughout to ensure that future research applications are relevant and beneficial to all children.
Recent updates
Dr Mhairi Aitken and Morgan Briggs presented at Government Data Summit on 'Public Trust and Data' with specific reference to children's rights and AI, July 2022
Dr Janis Wong was part of a Roundtable with the ICO to evaluate the Children's Code, June 2022
Dr Mhari Aitken and Morgan Briggs co-authored piece, 'Engaging Children with AI Ethics' for the Raspberry Pi Foundation, June 2022
Dr Janis Wong judged the UCL Computer Science Coding Curriculum 2022 Hackathon to support technology demonstrations for school children, May 2022
Morgan Briggs taught children about AI for Future Forums workshops (in partnership with the British Science Association), February 2022
Participated in Scottish AI Summit in Edinburgh. Dr Mhairi Aitken presented in panel discussion entitled 'Why is it important to engage children in AI and how do we do it right?, March 2022
Publication of case study resulting from months of research in partnership with UNICEF, November 2021
Blog Post on Scotland AI Strategy's website entitled 'Is the public sector ready for child-centred AI?', November 2021
Dr Mhairi Aitken delivered a seminar on "AI Ethics and Engagement with Children and Young People" as part of the Raspberry Pi Foundation, Computing Education Seminar Series, September 2021
Researchers and collaborators