The Alan Turing Institute is pleased to announce its International Advisory Board for the project 'trustworthy digital infrastructure for identity systems'. This initiative brings together leaders in the global effort to advance recognition for identity as a human right with trailblazers in government that are driving new opportunities with digital identity, playing a pivotal role in the Turing's effort to apply the rigour of academic research to current developments in digital identity systems.
Dr Joseph Atick, Chairman & Co-founder ID4Africa; Founder & Chairman of Identity Counsel International (ICI). 
  
With 30 years of domain expertise in the field of identity and biometrics, Dr Joseph Atick is recognised as a founding father of the digital identity community. Formerly head of the Computational Neuroscience Library at Rockefeller University, Joseph's research areas led to the discovery of key algorithms for pattern recognition that led to the foundation of the biometric industry and face recognition technology. He has since dedicated his career to bringing identity to the social and economic development agenda and currently chairs the ID4Africa Movement (id4africa.com), which he established in 2014 and now represents the interests of identity stakeholders in 48 African countries. He also co-founded the International Biometrics & Identity Association; served as Executive Chairman of Identity Council International, which provided strategic counsel to governments, international organisations and enterprises, and established a company that he led through several mergers to become a part of the global identity solutions provider IDEMIA.  
  

Dr Michiel Van Der Veen, Director of Innovation & Development, National Office for Identity Data, Netherlands 
  
Dr Michiel van der Veen is Director Innovation & Development at the National Office for Identity Data of the Ministry of the Interior and Kingdom Relations in the Netherlands. He has been a leader within the field of biometrics, and the delivery of large-scale identification projects for governments since 2008. He began his career with Philips Electronics, where he held several technical and leadership positions, and went on to establish priv-ID BV, a spin-off company of Philips Electronics developing emerging privacy-by-design technologies for biometric verification. He led the new company through a successful merger with Norway-based GenKey AS, where he also served as Chief Executive Officer and became particularly active advancing identification and biometric solutions for governments in developing countries. Michiel is a member of the Technical Expert Group of the Identification for Development (ID4D) program at the World Bank.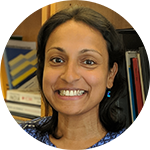 Vyjayanti Desai, Practice Manager, Identification for Development (ID4D) and G2Px at World Bank Group 
  
Vyjayanti Desai is the Practice Manager of World Bank's Identification for Development (ID4D) and Digitizing Government to Person Payments (G2Px) initiative, two global, multi-sectoral initiatives. These initiatives support progress towards trusted and inclusive identification systems and digitisation of G2P programs with broader goals of financial and social inclusion, women's empowerment and greater individual agency. These initiatives support clients with advice and financing in over 35 countries, advances thought leadership on the topics of digital identity and G2P and accelerates global public goods together with other partners. Vyjayanti joined the World Bank Group (WBG) in 2000 and has worked on a range of private and financial sector development programs across both the World Bank and IFC advisory within several regions – Africa, East Asia and South Asia. The programs she has led, working with client countries, has spanned topics of small and medium enterprise development (SME), competitiveness and innovation, digital development, investment climate policy and regulatory reforms, and access to finance. Within the WBG, she has led and shaped many multi-disciplinary and institution-wide programs, actively working to develop a unified agenda and designing integrated multi-sectoral solutions to these pressing development challenges. Prior to joining WBG, Vyjayanti worked at Deloitte Emerging Markets, where she provided consulting services to clients on private and financial sector development.  
  

Dr Pramod Varma, Chief Architect Aadhaar, India Stack, CTO EkStep Foundation. 
  
Dr Pramod Varma is the Chief Architect of Aadhaar, India's digital identity program that has enrolled more than 1.26 billion residents. Pramod advises several digital public infrastructure initiatives in India, including: National Payment Corporation (NPCI), Goods and Services Tax Network (GSTN), National Health Authority (NHA), and Securities and Exchange Board of India (SEBI) among others. He is also the architect of various population-scale solutions in India, including eSign, Digital Locker, and Unified Payment Interface (UPI), and works to drive tech for good initiatives as co-founder of beckn.org – the non-profit organisation behind open-source protocol specifications for hyperlocal commerce; and as CTO of EkStep, a platform providing learning opportunities to 200 million children in India. Pramod is passionate about technology, science, society, and teaching, driven by his enthusiasm for advancing internet-scale distributed architectures and intelligent systems for public good